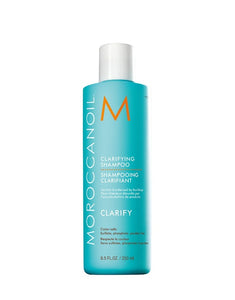 For hair burdened by buildup.
Details:
Hair products, hard water and mineral deposits, chlorine and environmental impurities can all leave buildup over time—which can cause dull, greasy or limp hair. Moroccanoil® Clarifying Shampoo is a deep-cleansing formula that removes everyday buildup, restoring hair to a weightless, healthy balance. Rich in argan and avocado oils, keratin, lavender, chamomile and jojoba extracts, this clarifying shampoo nourishes your hair while gently cleansing impurities away. Color-safe. Sulfate-free, phosphate-free and paraben-free. Can be used prior to a color, perm or chemical treatment for the most even results.
How-To:
Wet hair completely to activate a rich, luxurious lather from the highly concentrated Moroccanoil® Clarifying Shampoo. To completely remove buildup, continue to add water while gently massaging the shampoo throughout hair and scalp. Rinse thoroughly until water runs clear. Repeat if needed. Follow with a Moroccanoil conditioner or mask. This clarifying shampoo may be used twice a month; or up to once or twice weekly for those who use a lot of hair products, swim regularly or have hard water.